Testimonials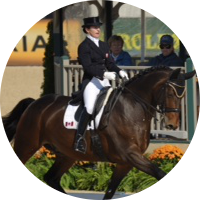 Belinda Trussell
(Represented Canada in the 2002 World Equestrian Games, 2004 Olympics, 2004 World Cup, and 2010 World Equestrian Games)
I have had the pleasure of working with Jill for the past 15 years. As a coach I occasionally come across riders with an innate feel for the horse, and she has that ability. She is extremely dedicated to her students and the sport.
Over the years Jill and I have set up clinics together. When I teach Jill's students, they all show a clear understanding of the classical system of dressage which is a huge compliment to Jill's ability to share her knowledge.
I believe we never stop learning in this sport and Jill is constantly challenging herself to reach higher goals and invests in her equine education to strive for excellence.
She is open, kind, and compassionate. Working with Jill gives a rider a wonderful future in dressage.
---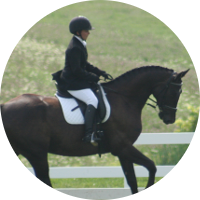 Rebecca Radonicich
Jill has been my coach for about 4 years now and I couldn't be happier. Jill is a beautiful and talented rider and has been such an inspiration to my riding. When I first started with Jill, I was doing eventing and wanted to start improving my dressage. It didn't take long before Jill helped me see what potential my horse had in dressage (and apparently me too!), so I decided to focus on dressage instead of Eventing. In the past few years, Jill has brought my horse from looking pretty fancy to WOW! Jill is fantastic in recognizing the minute details the rider needs to make in order to finesse the technical movements of the horse. I love how every lesson is tailored individually to my horse and I and my personal goals. Every year I have been able to move up a level with more confidence in myself and my horse, and have always placed successfully with top marks. Jill is always encouraging me to do my best in every ride and really knows how to challenge me. Jill's wonderful personality not only makes her a fantastic coach but great person to be around.
---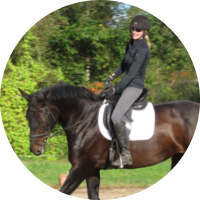 Carolyn Pass Cormier
I have been taking dressage lessons from Jill Stedman for over 10 years now. Jill is a wonderful coach and has helped me reach my dressage goals over the years with many different horses.
The horse I have presently Jill has helped her progress so much in her dressage. She is almost always placing 1st and scoring 70% or higher at Ontario Horse Trials.
Jill gives me lots of challenges and helps me push to progress to the next level. I have learned so much from her and I would recommend her to anyone.
I'm looking forward to many more years of lessons with Jill.
---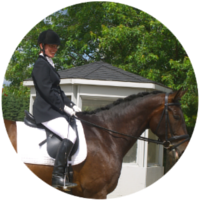 Diane Doub
I highly recommend Jill Stedman for Dressage lessons, purchasing a horse, and coaching at shows. I was extremely fortunate to ride with Jill for 10 years. In that time she coached me on my aging horse and on an up-and-coming youngster, trained my young horse to Third Level, helped me purchase two horses, and supported me through some fears after a horse related injury.
Coaching: Jill gives very clear direction so that marked improvement can be seen and felt at the end of the lesson. She can explain concepts multiple ways until the rider fully understands the purpose of the aides and the rationale behind each exercise. She is able to draw the best out of both horse and rider. She patiently changed my older horse and I from a stiff, resistant ride into a more soft, flexible way of going. She gave me the tools to focus on refining my aides to support my talented young horse. Besides her fabulous, constructive manner of coaching, there are many things that I miss now that I have moved away. Examples include the amazing ability Jill has to teach semi-private lessons so both riders feel we had her undivided attention or how she can warm-up 2 riders of different levels simultaneously at a horse show. Her eye is quick to spot a horse misstep whether due to lameness or rider interference so that corrections are quickly made.
Training: Jill took my green horse systematically through the different levels, always keeping in mind what was best for him as well as my riding goals. She included me in the training experience so that the horse and I grew together in partnership. I learned a lot and improved my eye as Jill would talk during her ride about what she was feeling and asking for during a training session.
Buying & Selling: Purchasing a horse can be very stressful but Jill supported me even in advance of the actual quest by arranging for me to ride numerous horses in lessons so that I would know exactly what traits and feel I wanted in a new mount. This greatly helped me to be confident and comfortable sitting on potential prospects. She gave me great advice both on purchasing and when I had to make a very tough decision to sell a horse.

If you want to have fun working with a coach that builds you and your horse's confidence and shares her knowledge so that you have the tools to improve your riding, then Jill Stedman is the coach for you!!!